Activities:
Kitesurf, SUP
Popularity:
Low
Style:
Level:
Beginner, Intermediate, Good, Specialist
A vast sandy stretch of land, from cape Mounda to Katelios village, reaching 4 km in length, this beach is considered one of the most beautiful and untouched shores of the island.
The beach is protected by the WWF and EU's Nature 2000 project as it is a nesting area of the Carretta loggerhead turtles, which are already suffering mass extinction. The turtles nest in the gentle sloped sand during the midnights of May and August, when certain parts of the beach will be closed for camping and digging.
Best Months:
May, June, July, August, September, October, November
Medium Months:
January, February, March, April, December
Wind Type:
Thermal Winds
Best Direction:
SSE, S, SSW, SW, WSW, W
Main Direction:
S, SW, NW, NNW
Worst Direction:
Wind Factor:
11-16 knots (4 bft)
Main Wind Direction:
Side Onshore, Onshore, Side Shore
Blowing at:
Midday, Afternoon
Wave Tack:
Due to the morphology, may blows NW but may also have SE winds. From May till September mostly NW side shore winds, 10-16 knots. In July and August thermal S/SW and rarer W winds side onshore - on shore. The best wind comes after noon, about 14:00.
Type:
Flat, Chop, Small Wave (< 1m), Medium Wave (1-3m)
Quality:
Crystal Clear
Depth:
Shallow (walking several steps not to step on)
Seabed:
Sand
Attention:
Rocks
With southerly winds there ideal conditions for wave, in October and November sometimes 2-3 m high, while with W and NW the sea is about Flat. Perfect beach for beginners' safe, shallow for several meters.
Type:
Grass, Sand
Size:
Big
Bathers Period:
June, July, August
Bathers:
Average
Shade:
No
Kid Friendly:
Yes
Attention:
Swimmers, Nesting turtles
Kaminia is a sandy beach on the southern tip of Kefalonia, 25 meters large, nestled in the Mounda Bay. Faces S/SW. The beach of Kaminia is pretty long and is connected to the neighboring Mounda beach to create a long stretch of sand, silent and relaxed. It is a very safe beach to learn kite or windsurf. You can take off and land your kite in a large area in front of the Hotel and left of the sunbeds.
Kaminia & Mounda are perhaps the only remaining beaches in Kefalonia nesting turtles Caretta-Caretta. For this reason, there are a couple of rules to follow to protect the species; do not make holes or dig, it is forbidden to camp, light fires, and even walking around at night in the summer.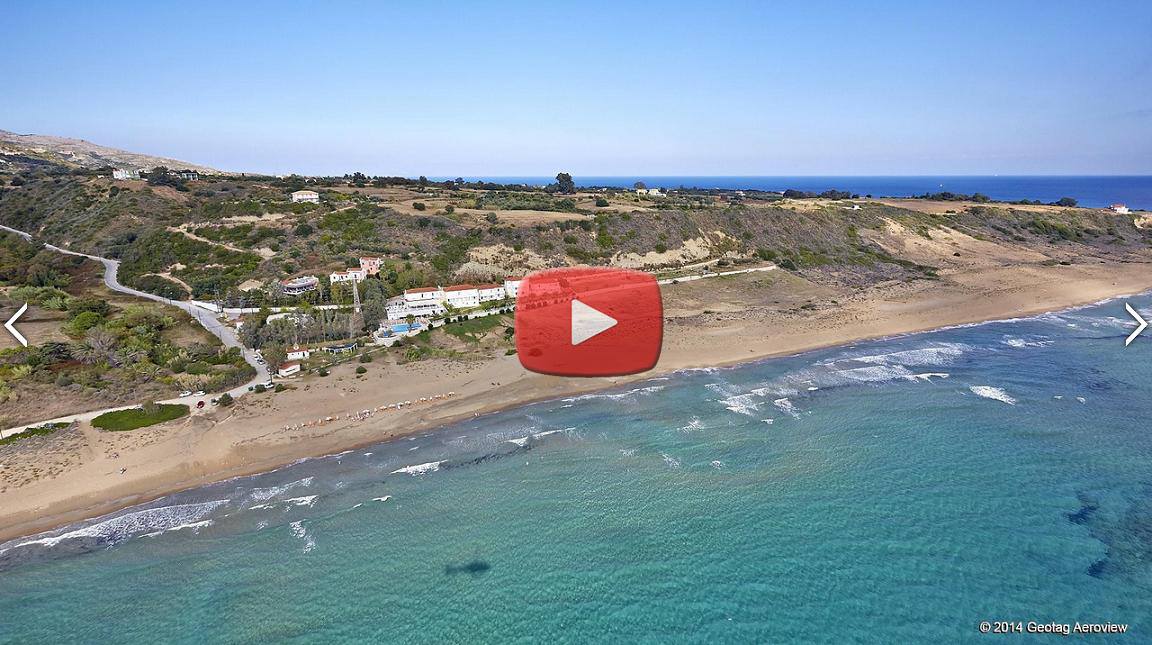 GPS Google Maps: 38.064840, 20.777698
Access to Kaminia: Take the road that goes from Argostoli to Poros. In fork stay right, downhill to Skala Village (Kaminia Beach is located 2 km before Skala). All straight to Ratzakli Village (attention: At Kaminia sign do NOT turn right, but keep going straight and left the village behind). After a while there are signs for Mounda beach and Marina bay. Then turn right. The road near towards the beach can be narrow and sloppy. There is enough space to park.
---
Access to Kefalonia:
Arrival by Airplane: The airport of Kefalonia is found at the region of Svoronata (9 km off the island's capital, Argostoli), on the south western side of the island. There are daily flights from Athens and Thessaloniki throughout the year; the flight time from both cities is 1 hour. Also there are numerous charter flights between the island and major European cities during the summer months. Additionally, during the summer there are flights between Kefalonia and other cities in Greece. The airport can be easily accessed either by private cars or by bus and taxi.
Arrival by Ferry/Boat: There are daily boat connections between Kefalonia, Peloponnese and the district of Sterea Ellada.
From Astakos: There are daily boat routes from Astakos region (Sterea Ellada) to the port of Sami in Kefalonia that last approximately 2,5 hours.
From Patras: Occasionally, but not every summer, there are boat routes from Patras to the port of Sami in Kefalonia that last approximately 3,5 hours.
From Kyllini: There are daily boat routes from Kyllini (a port town in western Peloponnese) to the port of Poros, the main port of Kefalonia, that last approximately 1,5 hour. There is also a connection between Kyllini and Lixouri - Argostoli, but only during the summer months. Kefalonia is also connected with the rest of the Ionian Islands.
From Lefkada and Ithaca: There are boat routes between Vassiliki (Lefkada) and Fiscardo, Pisaetos port (Ithaca) and Fiscardo, as well as Ithaca and Sami.
From Zakynthos: The port of Pessada in southern Kefalonia operates ferries to Shinari -Zakynthos. This connection applies only during the summer months (May to October) and takes place twice a day. The journey, that lasts approximately 1 hour, is between the port of Pessada in Kefalonia and the port of Schinari in Zakynthos.
From Corfu: You can travel between Kefalonia and Corfu with a flying dolphin.
There is also a boat connection between Argostoli and Lixouri. The boat leaves every half an hour, the trip lasts 20 minutes.
Finally, in high season (from late July until early September), the port of Sami in Kefalonia receives ferries from Brindisi Italy.
Arrival by Car, Moto, Camper Van: If you choose to visit Kefalonia using your car, you have three choices: You can drive to Patras (Athens-Patras 211 km), Kyllini (Athens-Kyllini 288 km) or Astakos in Aitoloakarnania (Athens-Astakos 301 km). Patras, Kyllini and Astakos can be accessed via the Athens-Patras National Highway, if you are travelling from Peloponnese, Athens or east-central Greece. If you are driving from northern Greece you need to take Egnatia Highway towards Igoumenitsa and then drive southwards. If you are driving through the Athens-Patras highway and you want to take the ferry from Astakos, you need to pass the bridge of Rio-Antirio and continue through Mesolongi towards Astakos.
Once you reach Patras, Kyllini or Astakos you take the ferry to Kefalonia. The journey's time depends on the departure point.
Arrival by Bus: There are daily departures from Athens to Kefalonia, from Kifissos Terminal Station in Athens. The bus will go from Athens to Kefalonia (through Kyllini or Patras) and will reach its final destination, Argostoli, within about 6,5 hours. Kefalonia features the ports of Sami, Poros or Argostoli.
---
Local Transportation:
Buses: Kefalonia's road network is good and so is its public transportation system. The main Long Distance Bus Terminal (KTEL) is in Argostoli and from there you can get information about itineraries and prices. The bus itineraries cover almost the entire island and the tickets are not expensive. There are 4 daily rides between Argostoli and Sami and 2 between Argostoli and Fiscardo.
Taxi Servise: A taxi can be used for short or longer distances. The main taxi station is in Argostoli, on Vlavianou Square. However, you can also hail for a cab in the main streets or central places. The fares are fixed between the capital city and the most popular destinations, but you can also check before you get onboard. In the main taxi stations you will also find a board with indicative fares for every destination.
Rent a Car or a Motobike: Kefalonia is the biggest of the Ionian Islands. There are many attractions, secluded beaches and monuments waiting to be explored, thus a car or a motorbike is always the most practical and convenient way to get around. There are numerous car rental agencies on the island. However if you are planning on visiting the island during summer months, it's better to make a reservation in advance.
The terrain of the island is mountainous, with many purely agricultural areas, which means that tractors or other vehicles might appear out of nowhere or even animals or pedestrians. Needless to say that you should be extra careful and experienced, especially if you are riding a motorcycle or a scooter.
Windsurf Lessons


---

Windsurf Rental


---

Kitesurf Lessons


---

Kitesurf Rental


---

Surf Lessons


---

Surf Rental


---

SUP Rental


---

Storage


---

Repair


---

Washing


---

Rescue


---

Equipment Store


---

Events


---
Parking
Parking space available

---

Toilet


---

Shower


---

Beach facilities
Several points with loungers and umbrellas for rent

---

Food
A few beach bars

---

Market


---

Acommodations
Some hotels and villas in the area

---

Camping


---

Room for Camper Vans


---

Nightlife
Good selection of bars in Skala. Captains Bar for early drinks, Spileo Club for later.

---

Medical Center
Regional Medical Center in Skala (3 km East)

---

More Activities
Diving

---